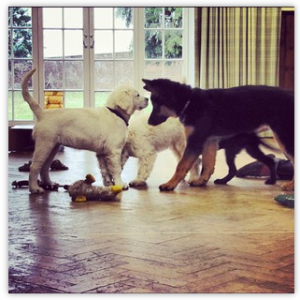 It all begins with your new arrival. The timing usually means you can attend a free puppy party. I am pleased to say that these are now held twice a month at The Henley and Twyford Veterinary surgeries . They last approximately 45 minutes. Along side behavioural issues covered you can observe normal puppy traits, watch the Puppies have a controlled play, which gives you the knowledge and confidence to know when to intervene or stop any unwanted behaviour.
The pups which are timid find themselves joining in the fun. The pups which are overpowering learn how to steady down among the less bold for a happy controlled play.  Play is an integral part of a dogs development and many trainers are not confident to allow pups off lead play. Without applying this in their teachings our dogs grow into those who lack social skills , often approaching other dogs in a boisterous way  and so causing problems not only for your dog but also for others. Self control is a behaviour we all need to learn none of us are born with that so teach them young.
Behavioural issues addressed: separation, mouthing and toilet training. Invites from clients regarding any issues are encouraged and discussed
please note this is specifically for puppies in between vaccines and is NOT appropriate for those already out in the big wide world. It would be completely unprofessional of me to mix older pups in with 8 and 9 week pups
If you are registered with another practice please call me for availability.